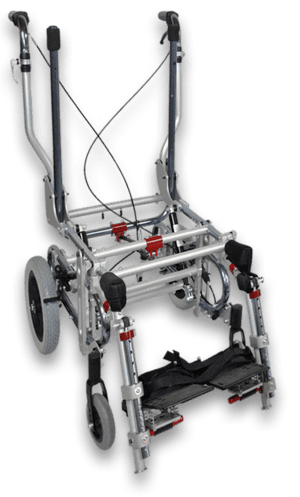 Designed for people affected by movement disorders in extensor hypertonic issues, it absorbs the uncontrolled and violent movements and releases them smoothly.
Adacta Klim allows the decrement of the pressure peaks of the body on the seating system, ensuring general relaxation and wellbeing, with reference to the hypo-oxygenation crisis this kind of people suffer, enhancement of communication abilities and life quality.
Designed for CHILDREN, TEENAGERS AND ADULTS.

Continuous Tilt in space by gas spring.
Backrest angle reclining by gas spring starting from 0° to 95°.
Totally modular and weld-free, follows the user changing needs for a long time.
Wide range of sizes and customizations available.
Made in high resistant aluminium.
Featuring shock absorbing materials and mechanisms.
Selectable only in combination with the Versa, Versa Inserto positioning systems.
Browse the gallery and find out some of the features of Adacta Klim!